A fellow Mo once said: My wish is to stay always like this, living quietly in a corner of nature.
IT MUST HAVE BEEN NICE TO BE CLAUDE. BUT SINCE MOST OF US DON'T LIVE LEISURELY lives AMONGST OUR GARDENS AND LILY PONDS, IT'S EVEN MORE IMPORTANT TO FIND SOME TIME TO COMMUNE WITH NATURE. THINK OF YOUR ART SUPPLIES AS THE CONDUIT TO a FULLER APPRECIATION OF ALL THE BEAUTY AROUND YOU (THAT'S NOT ON YOUR SCREEN)!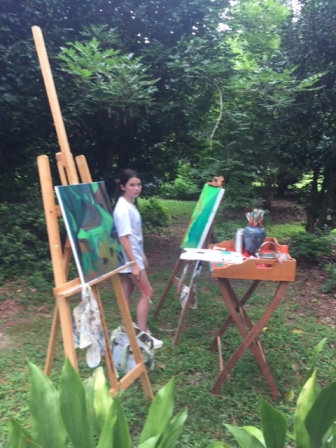 You should spend 20 minutes a day out in nature, unless you're too busy. In that case, you should spend an hour.
Gaga painting some abstracted landscapes inspired by our front garden.
SINCE THIS IS THE TIME OF YEAR IN LOUISIANA THAT WE START THINKING ABOUT GOING OUTSIDE AGAIN, HERE ARE A COUPLE OF OPTIONS TO HELP YOU HAVE A DELIGHTFUL EN PLEIN AIR EXPERIENCE…..
THIS FANCIER SET-UP INCLUDES THE NEW SIENNA POCHADE BOX (which we have heavily discounted, and will be featuring at demo day!), A COLLAPSIBLE LEATHER STOOL, SOME GIANT DAVINCI COSMOTOP BRUSHES, AN ARCHES WATERCOLOR BLOCK, SOME DANIEL SMITH COLORS, A COUPLE OF BLACKWING PENCILS, AND A NIFTY RED BAMBOO BRUSH ROLL-UP. FOR THOSE WHO CAN SWING IT, THIS IS A GREAT SET-UP!

THIS SUPER PORTABLE MINI STUDIO WILL ALLOW YOU TO IMPULSIVELY STOP AT ANY AVAILABLE TREE STUMP OR BENCH AND START PAINTING. THIS SET-UP INCLUDES A SENNELIER TRAVEL WATERCOLOR SET, HANDBOOK WATERCOLOR JOURNAL, 10 WELL ENAMELED METAL PALETTE, PLASTIC WATER DROPPER, RAPHAEL SYNTHETIC TRAVEL SIZE BRUSHES, AND A HANDLE-LESS MUG WITH IMPRESSIONS OF MODERN ARTISTS WHO HAVE COME BEFORE YOU. FITS SNUGLY IN A SMALL BAG AND AWAY YOU GO.